In de afgelopen twee jaar zijn meer jonge mannen gaan werken. De nettoarbeidsparticipatie van jonge mannen lag lange tijd achter op die van jonge vrouwen. Door de relatief sterke toename in de laatste jaren heeft nu een groter deel van de jonge mannen dan van de jonge vrouwen betaald werk. Dat is voor het eerst sinds de start van de meting in 2003. Dit meldt het CBS op basis van nieuwe cijfers.
In mei 2022 was de arbeidsparticipatie van jonge mannen (76,2 procent) voor het eerst iets hoger dan die van jonge vrouwen (76,1 procent). Jarenlang hadden jonge vrouwen (15- tot 25-jarigen) juist vaker betaald werk dan jonge mannen. Vooral in het afgelopen jaar was er sprake van een relatief sterke toename van jonge mannen met betaald werk.
Bij 25- tot 75-jarigen is de nettoarbeidsparticipatie van mannen al jaren hoger dan die van vrouwen.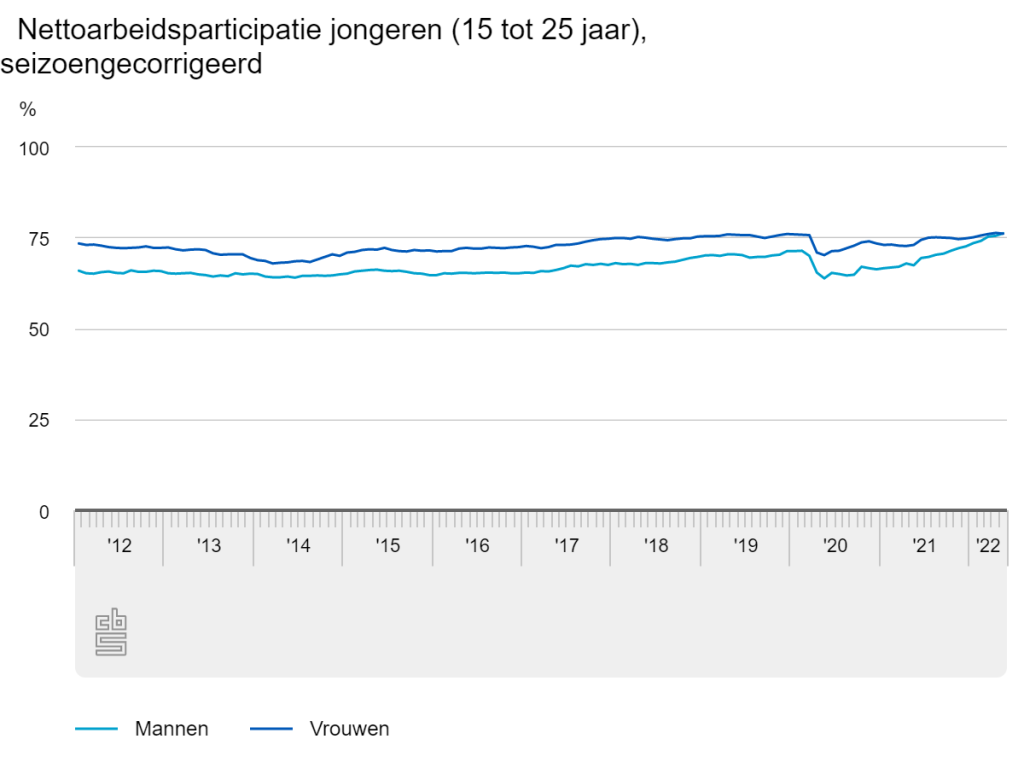 In het eerste kwartaal van 2022 hadden 797 duizend jonge mannen betaald werk. Dit zijn er 87 duizend meer dan een jaar eerder. Het aantal werkende jonge vrouwen nam ook toe (met 36 duizend). In het eerste kwartaal van 2022 hadden 781 duizend jonge vrouwen betaald werk.
Jonge mannen vaker een vast contract
Zowel het aantal jongeren met een flexibele arbeidsrelatie als het aantal jongeren met een vaste arbeidsrelatie is in het eerste kwartaal toegenomen (met elk ongeveer 60 duizend) ten opzichte van een jaar geleden. Jonge mannen gingen vaker een vaste arbeidsrelatie aan dan jonge vrouwen.

De meeste jongeren werken als flexwerknemer. Dit betekent dat zij een arbeidsovereenkomst voor bepaalde tijd hebben, óf een flexibel aantal uren per week werken, meestal als oproep- of invalkracht.
Meer jonge mannen werken in deeltijd
Het afgelopen jaar nam het aantal deeltijdwerkers onder jongeren relatief veel toe. De toename van het deeltijdwerk onder jongeren was groter bij mannen dan bij vrouwen.
De meeste jongeren werken in deeltijd (minder dan 35 uur per week). Jonge vrouwen hebben vaker een deeltijdbaan dan jonge mannen.

Vooral meer horecapersoneel
Veel jongeren werken in een commercieel, logistiek of dienstverlenend beroep. Jonge vrouwen hebben vaker een baan als verkoopmedewerker in de detailhandel of als kassamedewerker. Jonge mannen hebben vaker een baan als lader, losser of vakkenvuller. Binnen dienstverlenende beroepen zijn zowel jonge mannen als jonge vrouwen relatief vaak werkzaam in de horeca. Ze werken als ober, keukenhulp of staan achter de bar. Vooral het aantal werkende jongeren met een beroep in de horeca nam toe het afgelopen jaar. Dit hing samen met het herstel in de horeca ten opzichte van begin vorig jaar, toen er een strenge lockdown gold.
Het aantal jongeren met een pedagogisch beroep, vooral als leider in de kinderopvang of onderwijsassistent, nam naar verhouding veel toe bij zowel vrouwen als mannen. De sterkere toename van werkende jonge mannen was vooral zichtbaar bij technisch beroepen en bedrijfseconomische en administratieve beroepen. In vrijwel alle onderliggende technische beroepssegmenten was er een toename. Bij de bedrijfseconomische en administratieve beroepen groeide vooral het aantal jonge mannen met een baan als transportplanner of logistiek medewerker.

Bron : CBS