Pedagogisch medewerkers kinderopvang in de provincie Limburg overwegen het meest om van baan te veranderen, terwijl de collega's in Drenthe dit het minst overwegen. Dit blijkt uit de vraag of men op zoek is naar een andere baan en of men dit overweegt.
Medewerkers in Limburg geven het werk als pedagogisch medewerker zelf de hoogste score van Nederland, toch wensen zij het meest een andere baan. Dat Utrecht, Noord-Holland en Zuid-Holland hoog scoren komt overeen met de score dat men in deze provincies het minst tevreden is.
Dat Drenthe hier het laagste scoort is ook in de lijn van de verwachting, zij zijn het meest tevreden, blijkens andere resultaten van het onderzoek.
Opvallend is dat in Flevoland er een hoog percentage (72,22%) niet op zoek is naar een andere baan en ook maar zeer beperkt (16,67%) overweegt.
Dit blijkt uit de resultaten van het Tevredenheidsonderzoek Pedagogisch medewerkers 2019-2020 welke is uitgevoerd door Werkenbijkinderopvang.nl. Het volledige rapport van het Tevredenheidsonderzoek 2019-2020 wordt in maart gepubliceerd op de website.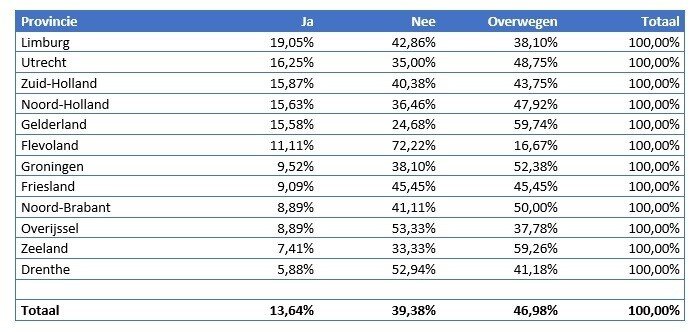 [TheChamp-FB-Comments num_posts="10″]